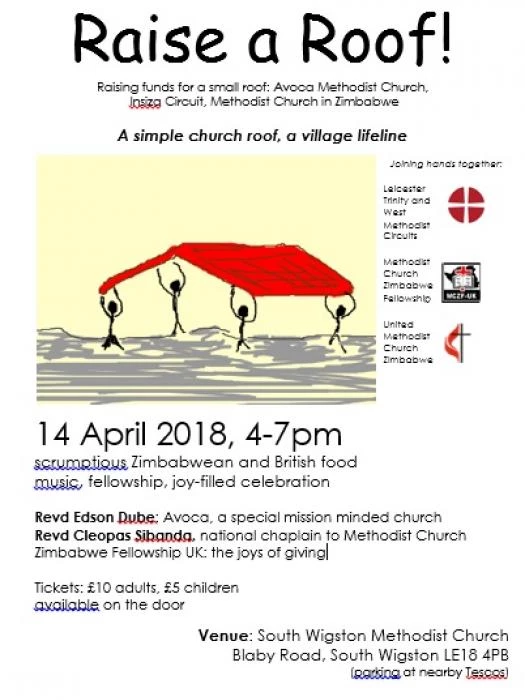 Raise a Roof is a Circuit wide early evening of delicious food, music and fellowship as we come together to raise funds for a small church roof for Avoca Methodist Church, Inciza Circuit, Zimbabwe. 14 April, 2018, 4-7pm, at South Wigston Methodist Church, Blaby Road, South Wigston, LE18 4PB. Tickets: £10 adults, £5 children, on the door.
This small church of 30 adults and 20 young people faithfully gathers often under an acacia tree in the village, for lack of a roof on the existing church building. A simple roof on the church means a place to worship when the rains come, temporary shelter for those in need, an extra school room when needed, and so much more. Avoca's commitment to God's mission has produced two ministerial sons, one of them the Revd Edson Dube, superintendent minister Leicester Trinity Circuit!
Edson will speak that evening about Avoca Methodist Church, its context, and how the people have inspired and sustained him. He is joined by the Revd Cleopas Sibanda, national chaplain to the Methodist Church Zimbabwe Fellowship in Britain. Raise a Roof is a joint event between Leicester Trinity and West Methodist Circuits, the Methodist Church Zimbabwe Fellowship and the United Methodist Church Zimbabwe.